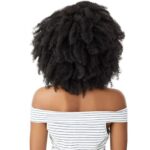 BIG BEAUTIFUL 9PCS CLIP INS – 4C CORKSCREW AFRO
₵160.00
Big beautiful hair™ clip ins have curls and textures that pair perfectly with your natural hair at an affordable price. Whether you're looking for a full transformation, just a little more volume and length, or a quick protective style, achieve it all with Big beautiful hair™ clip ins.
Clip in 9PCS
12″ Weft – 1pcs
10″ Weft – 1pcs
8″ Weft – 1pcs
7″ Weft – 1pcs
5″ Weft – 1pcs
3″ Weft – 1pcs
Description
Additional information
Description
MATERIAL: Human Hair Blend
TYPE: Clip on Extension
LENGTH:
HEAT SAFE: Yes
DESCRIPTION:
Blends Perfectly
Limitless Quick Styling
9 Clip in Pieces
Creates Longer, Fuller Looks
Available in a Variety of Colors
100% Premium Human Hair Blend
HOW TO CARE FOR HAIR:
Follow these tips & tricks to ensure that your wig stays fresh and looks bomb.
1. Before washing, gently detangle using a wide tooth comb.
2. Let your wig sit for a few minutes in a bowl filled with water and capful of shampoo.
3. Rinse & apply conditioner in a downward motion. Wait a few minutes then rinse.
4. Pat dry & shake to refresh style.
5. Place on a wig stand to air dry.